191st Assault Helicopter Company
2023



Canoa Ranch Golf Resort
Green Valley, Arizona
September 14 - 18, 2023
<><><><><><><><><><><><><><><><><><><><><><><>
---
Reunion News
Hello fellow 191sters,

The reunion has begun finally. The reunion will take place here in Green Valley, Arizona which is about 25 miles south of Tucson and 35 miles north of Mexico. The dates will be from September 14, 2023 to September 18, 2023.
The location of the hotel is the Canoa Ranch Golf Resort 5775 S. Camino Del Sol Green Valley, Arizona 85622 Phone # 520-382-0467

General Manager - Brian Wright.
Front office manager - Danielle Majalca

I have included a letter from the manager explaining the rates and some pictures of the resort.
There are 98 rooms and only 18 2-bedroom suites so make your reservations early.
We are all getting older and I am happy we will be able to have this reunion in September. I will be planning some activities and local places I'm sure you will want to see. Also there will be golf and I'll answer any questions about the golf courses or you can ask Roy Ahuna who was here last year.
Hope to see as many of you as possible because this will be a great reunion.

Paul & Rocky
Hotel Reservations and Cut-off
Canoa Ranch Golf Resort
5775 S. CAMINO DEL SOL
GREEN VALLEY, AZ 85622

Reservations: 888-430-2474

Local: 520-382-0450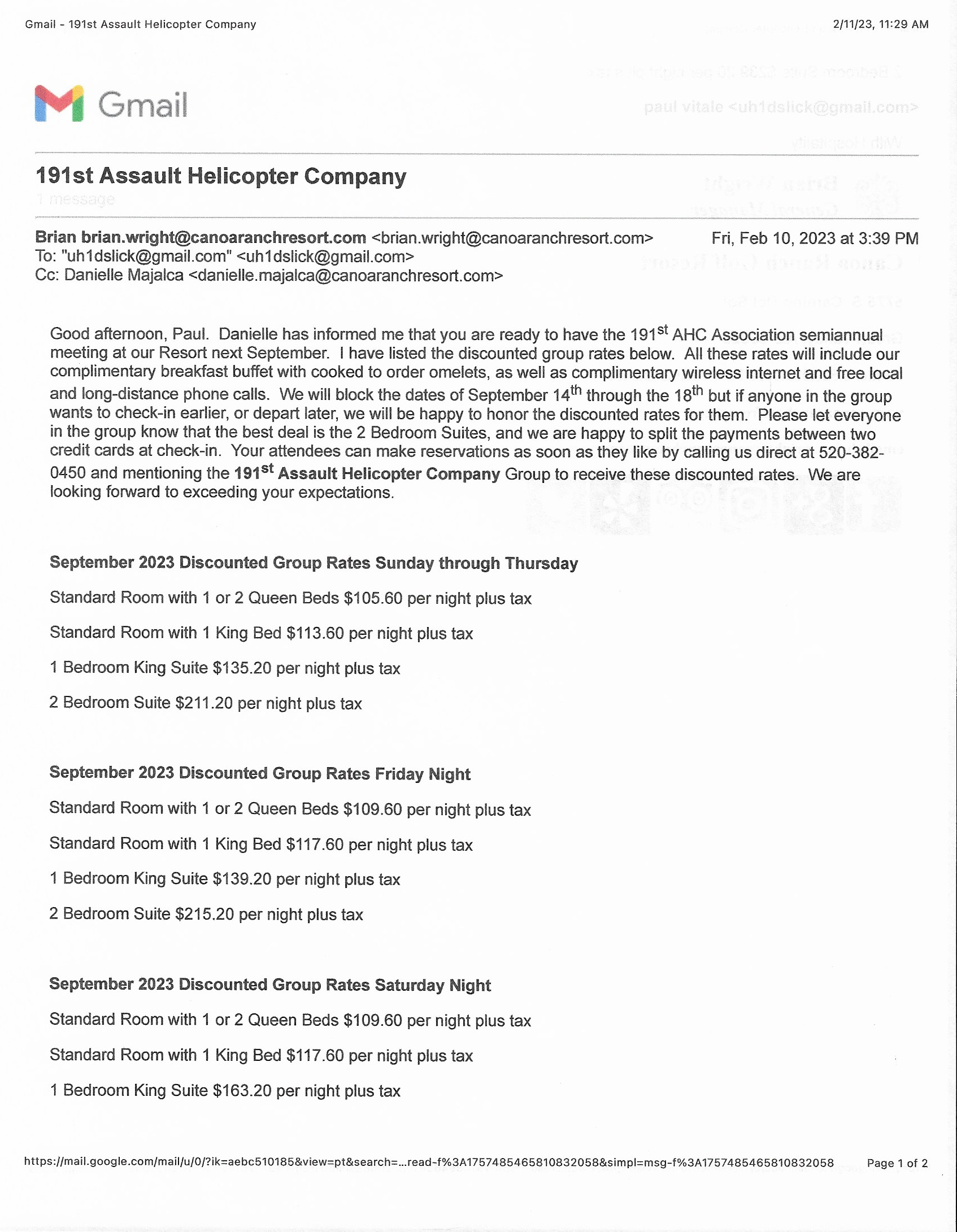 More Reunion News
3/25/2023


Hello Fellow 191st membership. The planning for the reunion is going well and the entrees have been decided. Either Prime Rib, Salmon or a vegetarian dish. We will have a sit down meal. Salads, desert , coffee ect. I am trying to overlook nothing. If you have any suggestions please advise. So far 20 rooms have been booked at the Canoa ranch Resort. There are only about 60 left so I f you are planning to go please set-up your reservations. Call either Brian Wright, General Manager @ 520-382-0460 or Danielle Majalca Front office Manager @ 520-382-0460. When you make the reservations be sure to tell them you are with the 191st group for our discount.

I am planning an itinerary and will have it out soon as there is so much to do here. I know you will enjoy it. Both myself and Rocky are planning this reunion to be the best ever. For those of you who have been to the reunions there is no need to tell you how they are. Many of our 191sters have never been to a reunion and the reunions are a place of comradery, meeting old friends and new who have many of your characteristics, remember you are not the only one as I used to think.

I came across this and thought it pertinent to all of us. a quote:
" Some People wonder all their lives if they've made a difference in this world. We don't have that problem "
Come to the reunion, make your reservations now !!! I promise you a great time.

See you there. Paul Vitale

Reunion Registration (Required)
Since some reunion expenses require pre-payment and a headcount, we need for those attending to complete the registration form and return it with the appropriate fee. Our registration form will be ready soon.
Mailing address for the 191st Association is:
191st AHC Association
3330 N. Galloway Avenue
#304-90
Mesquite, TX 75150
---
Support the 191st AHC Association
Regular and Life (voting) memberships are available to all former 191st AHC members. Membership begins January 1st of each year and ends on December 31st for Regular members and dues are paid annually. Life membership is perpetual.
Regular Membership is $20.00 per calendar year.

Life Membership is based on age:
Age Fee
54 & Under $300
55-60 $275
61-65 $250
66-70 $225
70 & Up $200
Association Members can view their membership status by Clicking HERE
Click HERE for a Membership Application to join the 191st AHC Association
---
---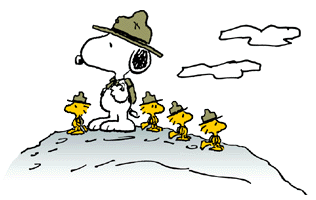 We are Looking for YOU at this reunion, so pack your bags and join us.
---
Click Here for the Morning Report (Attendee List)
---