191st Assault Helicopter Company
2023



Canoa Ranch Golf Resort
Green Valley, Arizona
September 14 - 18, 2023
<><><><><><><><><><><><><><><><><><><><><><><>
---
Reunion Agenda
September 12, 2023
191st Assault Helicopter Company
Green Valley, Arizona Reunion 2023



Thursday
Daily Hot Breakfast Buffet with cooked to order egg and omelet station
6:30 am until 9:30 am

Open Bar in Hospitality room, including snacks
11:00 am until 11:00 pm


Friday
Daily Hot Breakfast Buffet with cooked to order egg and omelet station
6:30 am until 9:30 am

Open Bar in Hospitality room, including snacks 11:00 am until 11:00 pm

Hamburgers, hot dogs, snacks outside hospitality by Pool 3:00 pm until 5:00 pm; Karaoke by the Pool 5:00 pm until 8:00 pm


Saturday
Daily Hot Breakfast Buffet with cooked to order egg and omelet station
6:30 am until 9:30 am

Open Bar in Hospitality room, including snacks
11:00 am until 11:00 pm

Desert Hills Recreation Room
Officers meeting 1:00 pm until 2:00 pm
Business meeting 2:00 pm until 3:00 pm

Dinner Banquet with Bar in DESERT HILLS RECREATION ROOM
Opening 4:00 pm until 9:00 pm
Band with dancing from 5:00 pm until 8:00 pm; Please plan on staying for the entire evening


Sunday
Daily Hot Breakfast Buffet with cooked to order egg and omelet station
6:30 am until 9:30 am

Open Bar in Hospitality room, including snacks
11:00 am until 11:00 pm

Memorial Service 10:00 am until 12:00 at Desert Hills Recreation Room

Open bar in Hospitality room from 1:00 pm including snacks, sandwiches until 5:00 pm


Monday
Daily Hot Breakfast Buffet with cooked to order egg and omelet station
6:30 am until 9:30 am

Hospitality room closed due to Check out times


ENJOY YOUR DAILY COMPLIMENTARY BREAKFAST
Fairfield Meeting Room
From 6:30 am until 9:30 am

Fuel your day hot breakfast buffet featuring cooked to order omelets from our egg station, warm pancakes, fresh fruits and a variety of cereals and pastries. Our selection of hot and cold items will surely satisfy even the pickiest of eaters.
Breakfast is served in a casual setting, on disposable paper and plastic ware. Guests can enjoy the flexibility of open seating with plenty of room for the entire family to gather.


Services & Amenities at GREEN VALLEY HOTEL
Enjoy the Wealth of Amenities and Services at our Green Valley Hotel
Bring your golf clubs and enjoy a round of golf at Canoa Ranch Golf Course. This championship golf course offers panoramic views, well – maintained greens and challenging well-designed holes.

Expect well-appointed amenities and convenient services during your stay with us in Green Valley. All amenities are subject to availability.

After a full day on the golf course, enjoy the Arizona sunshine and relax by our spacious outdoor pool or unwind with a soak in the Jacuzzi. Complement your golf game with a workout in our fitness center.

Our guest will also enjoy professional multi-lingual associates are on hand 24 hours a day to provide you with attentive, personal service to make your stay as enjoyable as possible. Our team is happy to help with everything from booking tee times to recommending what you should see and do in the Green Valley area.

ADA compliant
ATM
Bar / Lounge
Complimentary Breakfast
Early Check in (based on availability)
Express Check-In and Check-Out


Places to Eat
The Grill at Quail Creek 1490 N. Quail Range Loop, 520-393-5806

19th Hole Bar & Grill, 111 S. La Canada Dr. 520-399-4653
Important Phone Numbers
Paul Vitale 520-999-1825
Rocky Roccabello 520-235-6789
Lenore O'Connell 520-488-6222
Andrea Roccabello 520-336-7468

---
Reunion News
August 14,2023
Hello Fellow Comrades,
Both myself and Rocky have been working very hard regarding the final preparations for our reunion. I will address any of your questions ASAP. Any questions regarding golf will be addressed by Roy Ahuna as he is the golf geru.
There have been questions again regarding the Cobra and Huey flights. The Cobra flights are $ 625.00 / hour and the Huey are $110.00 / hour. Contact information for flights will be @ Army Aviation Heritage Foundation chapter in Phoenix, Az. Call 800-546-2843 or www.heritage.org you will make your own appointments for the flights.
There are only nine (9) rooms available for booking remaining at the Canoa Ranch Golf Resort. So if you plan to be at the reunion Hotel make your reservations as soon as possible to reserve your room at the 191stASLT Hel rates.
Please submit your applications to the reunion through the web. Site to Bill Janes.
Reminder of activities: On Friday night we will have a cookout outside of the Hospitality room with the pool hamburgers, hot dogs. During this cookout we will be having a Karaoke session with Marie and Bob, the best in the Tucson area. I urge you all to participate as it will be a lot of fun along with plenty of drink. The more beer I have the better I sound, I'm sure it will be the same for you. Saturday there will be visits to Tombstone, or Dessert Museum , Davis Montham AFB, Pima Aircraft museum and other landmarks in the area. We are working on transportation to these landmarks both Friday and Saturday. Saturday will be our formal sit down dinner at the Canoa Hills Recreation center with either Prime Rib or Salmon, dessert and coffee or tea along with a bar for drinks. Both myself and Rocky hope you participate in the Karaoke on Friday because the more singers the better the time. Get involved in our reunion and each of you find one more member to come.
If you have attended other reunions you know how good of a time it is. Only. Fun stories and exaggerating all you want only get better. I have invited a friend who was in the 240th the Greyhounds and Mad Dogs at the same time as us in Bearcat. Come enjoy having fun.
We want this to be the best reunion yet, and it will be hard to accomplish that as we have had so many memorable ones in the past. Our Major Patnode will be attending, along with Don Williams and Kevin Kenny who will do their performances. I was told Major Patnode will be bringing his Flight helmet which was painted by Weske.
Paul Vitale & Rocky Roccabello
---
Hello fellow 191sters,

The reunion has begun finally. The reunion will take place here in Green Valley, Arizona which is about 25 miles south of Tucson and 35 miles north of Mexico. The dates will be from September 14, 2023 to September 18, 2023.
The location of the hotel is the Canoa Ranch Golf Resort 5775 S. Camino Del Sol Green Valley, Arizona 85622 Phone # 520-382-0467

General Manager - Brian Wright.
Front office manager - Danielle Majalca

I have included a letter from the manager explaining the rates and some pictures of the resort.
There are 98 rooms and only 18 2-bedroom suites so make your reservations early.
We are all getting older and I am happy we will be able to have this reunion in September. I will be planning some activities and local places I'm sure you will want to see. Also there will be golf and I'll answer any questions about the golf courses or you can ask Roy Ahuna who was here last year.
Hope to see as many of you as possible because this will be a great reunion.

Paul & Rocky
Hotel Reservations and Cut-off
Canoa Ranch Golf Resort
5775 S. CAMINO DEL SOL
GREEN VALLEY, AZ 85622

Reservations: 888-430-2474

Local: 520-382-0450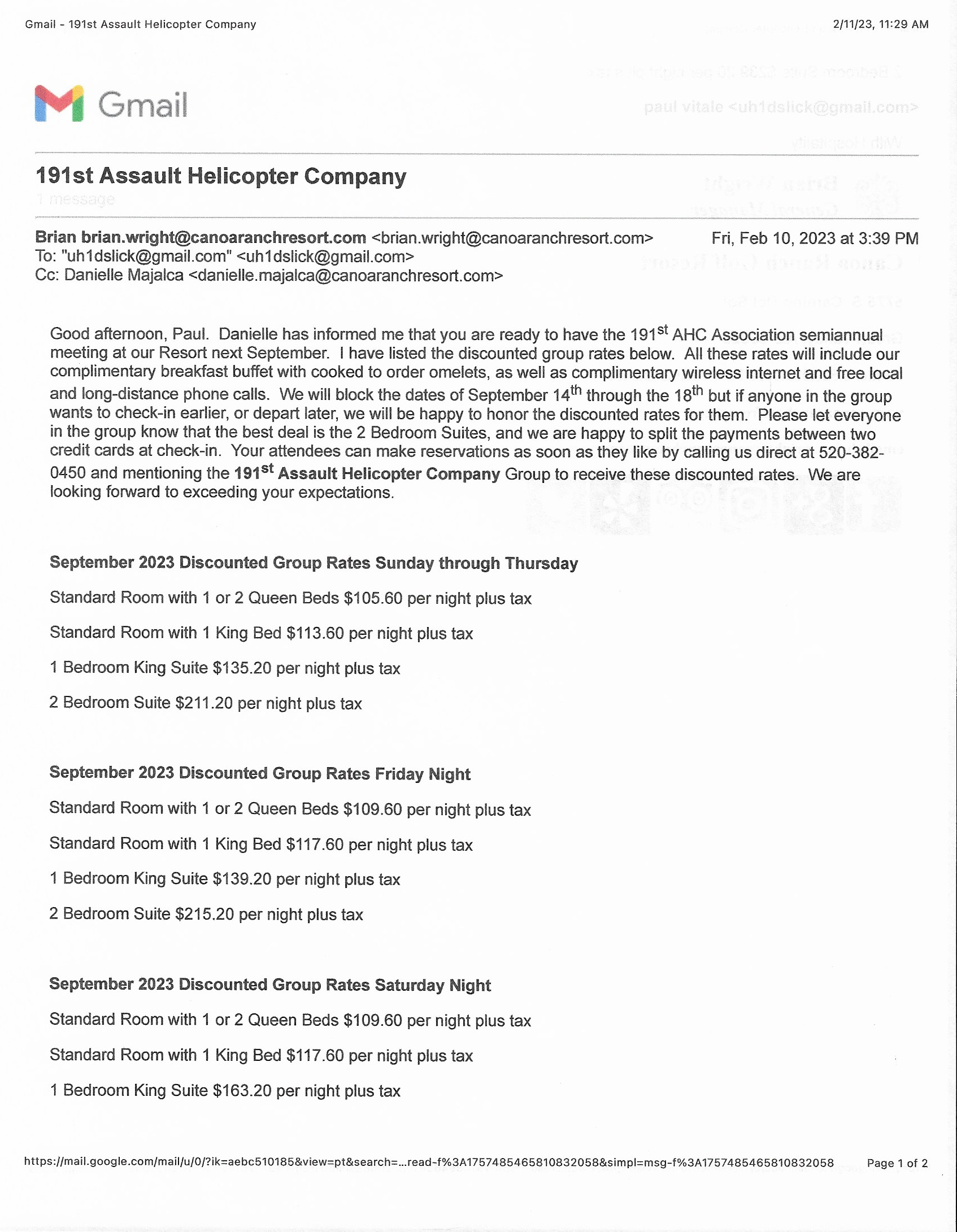 More Reunion News
3/25/2023


Hello Fellow 191st membership. The planning for the reunion is going well and the entrees have been decided. Either Prime Rib, or Salmon . We will have a sit down meal. Salads, desert , coffee ect. I am trying to overlook nothing. If you have any suggestions please advise. So far 20 rooms have been booked at the Canoa ranch Resort. There are only about 60 left so I f you are planning to go please set-up your reservations. Call either Brian Wright, General Manager @ 520-382-0460 or Danielle Majalca Front office Manager @ 520-382-0460. When you make the reservations be sure to tell them you are with the 191st group for our discount.

I am planning an itinerary and will have it out soon as there is so much to do here. I know you will enjoy it. Both myself and Rocky are planning this reunion to be the best ever. For those of you who have been to the reunions there is no need to tell you how they are. Many of our 191sters have never been to a reunion and the reunions are a place of comradery, meeting old friends and new who have many of your characteristics, remember you are not the only one as I used to think.

I came across this and thought it pertinent to all of us. a quote:
" Some People wonder all their lives if they've made a difference in this world. We don't have that problem "
Come to the reunion, make your reservations now !!! I promise you a great time.

See you there. Paul Vitale


Reunion Registration (Required)
Since some reunion expenses require pre-payment and a headcount, we need for those attending to complete the registration form and return it with the appropriate fee.
Fees for registration and the banquet are listed on the printable Registration Form below:
Click HERE for the Registration Form in PDF Format
Mailing address for the 191st Association is:
191st AHC Association
3330 N. Galloway Avenue
#304-90
Mesquite, TX 75150
---
---
Reunion Announcements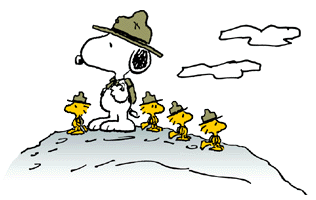 We are Looking for YOU at this reunion, so pack your bags and join us.
---
5/18/2023
Hello 191st
Myself and Rocky have been planning the reunion as you know.

Activities:
1. Old Tucson- Western town in Arizona during the 1800's. $34.00
2. Pima Aviation museum $ 16.75
3. Sonora desert Museum- The Arizona sonora desert museum was selected by the New York Times as one of the most distinctive zoo in the US best zoo in the US.
4. Davis Monthan AFB. - Take a ride on Vietnam era Cobra, or courtesy of the army Heritage
museum.

Hope this helps

Paul
---
Support the 191st AHC Association
Regular and Life (voting) memberships are available to all former 191st AHC members. Membership begins January 1st of each year and ends on December 31st for Regular members and dues are paid annually. Life membership is perpetual.
Regular Membership is $20.00 per calendar year.

Life Membership is based on age:
Age Fee
54 & Under $300
55-60 $275
61-65 $250
66-70 $225
70 & Up $200
Association Members can view their membership status by Clicking HERE
Click HERE for a Membership Application to join the 191st AHC Association
---
Click Here for the Morning Report (Attendee List)