191st Assault Helicopter Company
2008


Louisville, Kentucky
September 5-7, 2008
<><><><><><><><><><><><><><><><><><><><><><><>
The 191st AHC Reunion - 2008
After Action Report
Well folks, the 2008 191st AHC reunion is now history. For those that were unable to make it, we missed you. For those that attended, it was a great experience. Old friends were joined again, and we remembered our lost.
The Galt House treated us so well that some forgot the tents at Bearcat. Their service to us was impeccable.
On Friday there was time in the Hospitality Room for old friends to meet. Later Friday night most sailed on the Belle of Louisville, and enjoyed a pretty doggone good buffet dinner. After dinner, we just wandered the ship, and a lot found their way to the stern to watch the paddle wheel churn the Ohio River in the deepening night. Old brothers met again, and were glad to do so.
Saturday morning was spent with more meetings in the Hospitality Room, and in the afternoon a 191st Association business meeting was held. Prior to that, unit members that wanted to join the 191st Association did so, and received their ballots for the election of officers per our by-laws.
At 17:30, we met again for a reception in the Fountain Room at the Galt House, and following that Jack Tiesing, our host, welcomed all to the reunion. The FNG's (first time reunion attendees) were recognized and applauded. Each introduced himself, and those who had accompanied him.
Jack introduced the Missing Man Table at the front of the room and explained its significance.
Following that, Ed Mc Kee introduced an original oil painting that Jack Tiesing had painted. It was a painting from a picture of Bill Flores in Vietnam, and the painting was presented to Bill Flores. In addition, Ed introduced gifts to Bud Patnode, and Bill Janes. The gift was a numbered print of a painting by Joe Kline.
After that, it was time to eat, so we did. The food was outstanding, I thought. On the menu were salads, and vegetables, and steamer roast of beef carved by the chef, and mahi-mahi, and roasted chicken. Dessert was a delicious pecan pie, or carrot cake.
After dinner, Bud Patnode addressed the group with his remarks, and also introduced the newly elected officers:
Bud Patnode - President
Bill Flores - Vice President
Harrell Guidry - Treasurer
Roger Stickney - Secretary
Bud then introduced Ollie "Dee" Kennedy, and Dee gave us an insightful view of the journey from Ft. Bragg to California as they flew the unit's aircraft cross country for the deployment to Vietnam. We also learned from Dee about an effort to make ducks look whiter, and how the effort paid off with the ducks sinking.
Kevin Kenney did his version of "Danny Boy", and as great as ever.
We ended with a video that was comprised of pictures from the 2006 Reunion in Branson, and the video done by Terri Beckham for the 2004 reunion in Tulsa.
Following that, the unit members assembled for a photo opportunity, and a lot of pictures were taken.
If you missed this reunion, we missed you as well. We hope to see you at the next one in 2010.
---
Thanks to Harold Stitt for this picture: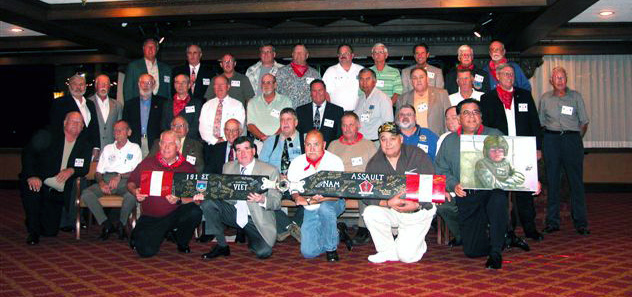 Click here for a video of pictures submitted by Harold Stitt -- Thanks Harold
Click here for a video of pictures submitted by Don Williams -- Thanks Don
More to Come