191st Grandpa Page
Send me a picture of those Grandkids and I'll put them here
billj@191ahc.org

---
Bill Janes
Justin Patrick Janes, Bill Sr., and Bill Jr.
---
Jack Tiesing
Jack Senior, and grandson Landon Jeremy Tiesing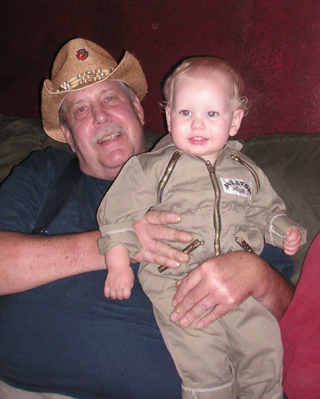 Jack and grandson Gavin Alexander
More Grandkid Pics from Jack Tiesing
---
Bill Flores
I want you to meet my granddaughter. Her name is Abigail (Abby) Graves. This picture was taken on her first birthday 8-19-05
Here is a replacement photo for the grandpa page of me and all of my grandkids.
From left to right, Loretta, Abigail and my new little buddy Kevin
Posted 26 Mar 07
---
Troy (Cupp) McKenna
Troy on the right

Troy's daughter Michelle, and husband John

Vietnam Picture Courtesy Art Almaraz
Family pictures courtesy of Michelle

Troys' Grandchildren

Jaime
Christian and Mike
Merisa and Liz
---
Pat Boyd
Pat and Nicholas
Updated Pictures - Nicholas (4 years) and Morgan (4 months)
---
Terry Wilund
| | |
| --- | --- |
| Terry Wilund with Luke (l) and Grant (r) | Luke in pilot's seat and Grant in pilot's (Grandpa's) arms |
---
Ed McKee
My daughter Shannon is on my right and my daughter Heather is on my left. My grand daughter Rachel (the 3 year old) and my grand daughter Jessica (the two week old) are Heather's children. "Auntie Shannon" will soon be catching up with her sister though----as Shannon is expecting her first child in January.
Here is a sneak peek at Ed McKee's new Grandson, Colton, and Ed's daughter Shannon - Picture courtesy of John Seidel, proud Dad:
---
Harrell Guidry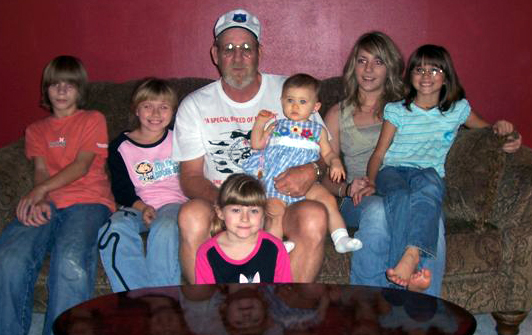 Here is my addition to the grandpa page. I finally got them all together.
They are left to right: Landon Matthews, Karley Strickland, Olivia Strickland, Camron Augustine, Ashlyn Matthews, Railie Guidry.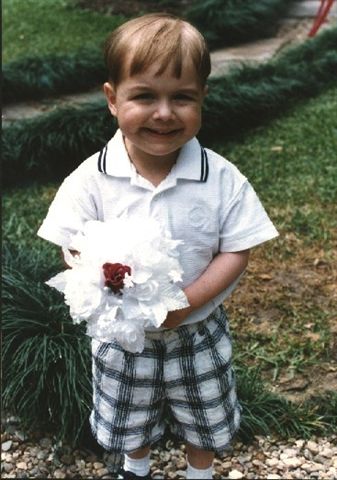 Blake Alexander
Aug 27, 1993 - Apr 26, 1997
---
Don Sandrock
The boy on my right (your left) is Dylan Gregory 2 1/2 years, and the one on my left (your right) is Tyler Michael 11 months
---
John Davis, and Fran
I wanted to share pictures of my GREAT Grandson, Layton Alexander Files. He was born on February 19, 2008, at 9.5 lbs and 23.5 inches long. He already is trying to turn over and hold his own bottle. The first with Great Grandpa JD holding him and the second with me.
Fran
---
Paul Vitale
| | |
| --- | --- |
| | Briana, Mckenzie, and Bogie the boxer |
| Mckenzie and Luke | |
| | Daughter Renee, Paul, and Grandson Paul |
---
Harold Stitt
Justin and Ashlyn Plott, and Pap Pap
---
Bill Janes
My new Grand Nephew Gavin William Walker, born in Okinawa on Valentines Day 2009. Mom and baby are fine, and the Green Beret Dad is too, now. There is a secret message here, and only PC knows it. I love ya PC.
---
Bruce McKay
| | |
| --- | --- |
| | |
| Granddaughter Zoe | Grandson Gabriel and Granddaughter Olivia |
| | |
---
Bruce Cromwell
Bruce Cromwell's Grandchildren along with his Mom and Step dad.
Starting at the top left: Brent, Macenzie, Sarah, Sunni, Colton, Hattie and Jarret
---
Andy Burney and Family
| | | | |
| --- | --- | --- | --- |
| | | | |
| | | | |
| Grandson Robert Burney (went to be with Jesus Nov. 8, 1993) | | | |
Jim West
Back Four on Left: Son-In-Law: Brian & Daughter: Aimee Grandson: Jordan Grandaughter: BryceCenter Back: Me (James D. West) with my wife Jeanette.Back Four on Right: Daughter: Angie Son-In-Law: Chad Grandson; Jacob Grandaughter; KaitlynOn Floor: Daughter: Apryll Son-In-Law Micah Boy Kneeling: Jaiden Tallest Boy Standing: Bronsen Smallest Boy Standing: Ty